Ralsei has a gun, but otherwise everything's normal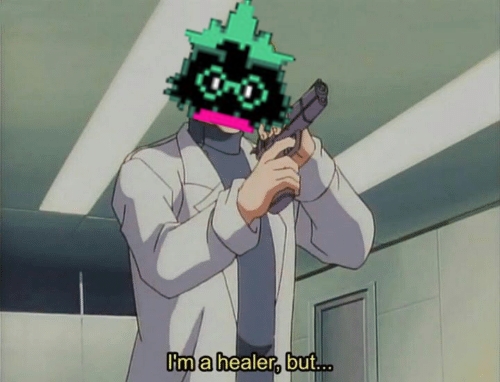 ATTENTION: Due to an update to Deltarune that I was not aware of, this mod is currently out-of-date. That said, you can still download and patch the sprites into the game manually if you really want to.
--<This is a mod for Deltarune Chapters 1 and 2, which, in case you haven't heard, are available for free, and you should totally play them!>--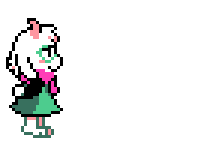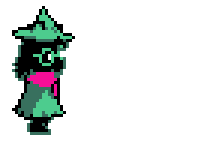 Believe it or not, Ralsei is a huge fan of guns. Not the act of using them, mind you. Rather, he's fascinated with the aesthetic and the mechanics behind them. However, knowing that the Dark World has become a dangerous place, he has reluctantly chosen to carry one for self defence purposes. Don't worry, it's actually just a toy gun that Toriel confiscated from one of the kids, threw into the school supply closet, and then forgot about. At least, I think it's a toy...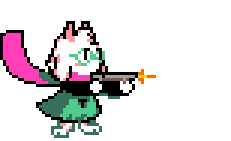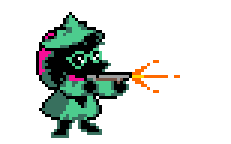 This mod changes Ralsei's battlestart, idle, attack, and (the first two frames of) victory animations so that it looks like he's wielding a gun. The animations aim to be natural and lively, while retaining Ralsei's optimistic and friendly demeanor. Otherwise, this mod has no effect on gameplay.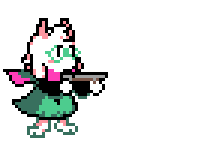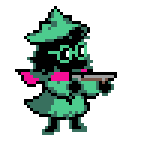 [As you can see, the victory animations are largely unchanged. This is partly because I didn't want to mess with Ralsei's adorable clap, and I was starting to get lazy at this point.]
ACKNOWLEDGEMENT
I wish I could say that I could say I drew/edited the animations myself, but that's only about 90% true - The gun used in these animations was taken from tailochara1's mod on Gamebanana. I simply tried to polish and improve the animations.
Install instructions
This zip file includes a pre-modded data.win file, and individual sprites. If you just want Ralsei with a gun, simply replace the original data.win in Deltarune's install directory with the modded one.
Unfortunately, the above method will not work, as the data.win file included in the download is for an older version of Deltarune. If you still want to give Ralsei a gun, and are willing to do a little extra effort, your only option at the moment is to manually patch the sprites into the game using UndertaleModTool. Each folder of sprites is named after the animation that they replace (note that animations used in chapter 1 are denoted with the obvious suffix, "(chapter1)").
In either case, I recommend that, before you do any of the above, you first make a backup the original data.win file, and either rename it to something like "dataVanilla.win," or by move it to another folder. This way, you'll be able to switch back to the original game in the unlikely event that something goes horribly wrong.
Download
Download
Ralsei_has_a_gun_but_otherwise_everything_is_normal.zip
53 MB